Pronounce Pond Pucks - Priced Individually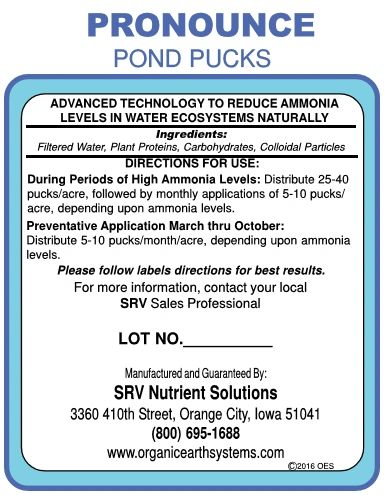 Pronounce Pond Pucks - Priced Individually
Pronounce Pond Pucks - Priced Individually - Can be purchased and sold in larger amounts as needed.
Pronounce contains the right kind of food sources to encourage proper biological activity in commercial farm ponds, regular ponds, small lakes, koi ponds, water gardens and other outdoor water sources. Create healthier fish in an improved living environment for a comparable cost per acre to your current protocol. Best of all, avoid the use of heavy metals for a healthier, safer food source.
Recommended use is 5-10/acre/month, depending on ammonia levels.
Improve your pond's eco-system
SRV-Activated Nutrition
Decrease Mortality Rate
Easy Application & Water Management
Sustainable Solution Costs No More
Speak with your dealer or call Organic Earth Systems for more information on Pronounce Pond Pucks and additional ways of improving your ponds eco-system.