Pronounce Pit Pucks - Priced Individually - Used By Commercial Livestock Producers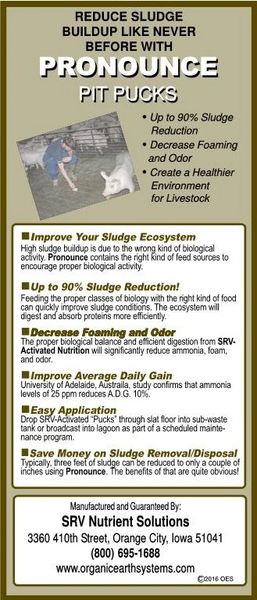 Pronounce Pit Pucks - Priced Individually - Used By Commercial Livestock Producers
Pronounce Pit Pucks - Priced Individually - Used By Commercial Livestock Producers
Improve Your Sludge Ecosystem! High sludge buildup is due to the wrong kind of biological activity. Pronounce contains the right kind of feed sources to encourage proper biological activity.
Safe for Septic Systems - Is Not Corrosive
Up to 90% Sludge Reduction Like Never Before
Decrease Foaming & Odor
Improve Average Daily Gain
Easy Application
Save Money on Sludge Removal/Disposal
The benefits are very obvious! Usage in Hog Confinements based on number of heard. Usage for cattle/cow yards are based on the size of lagoon.
Speak with your dealer or call Organic Earth Systems for more information.