Momentum - Foliar Plant Nutrition - 1 Gallon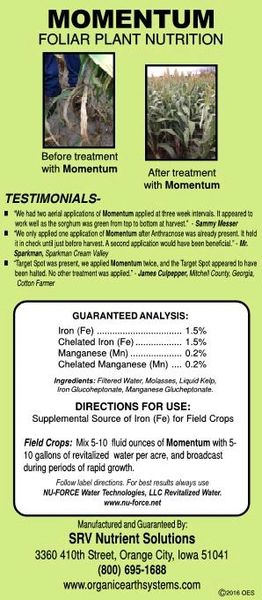 Momentum - Foliar Plant Nutrition - 1 Gallon
Momentum - Foliar Plant Nutrition - 1 Gallon
The answer for fungal leaf disease. Iron is essential for many plant functions: chlorophyll development, energy transfer, respiration, metabolism, and nitrogen fixation. Also, part of enzymes and proteins.
Plant health and the immune system of the plant rely on the correct balance of all nutrients. To increase sugar levels in the plant, the proper balance of trace minerals must be present. Plants can react to and fight off disease and insect challenges very quickly, if they are in a healthy state.
For Best Results Always Use With A Nu-Force Water Unit. Call your dealer or Organic Earth Systems for more information.