Eco Elements Organic Garden Fertilizer - Grower - 8# Bag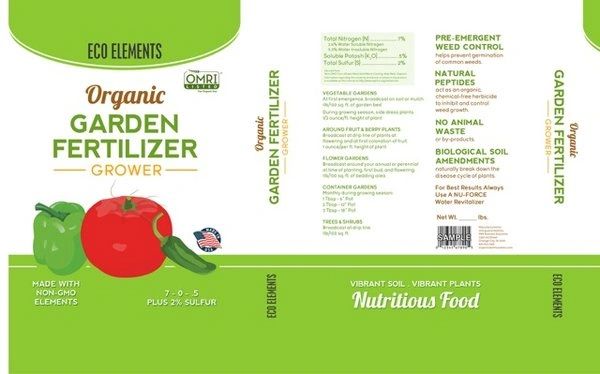 Eco Elements Organic Garden Fertilizer - Grower - 8# Bag
Eco Elements Organic Garden Fertilizer - Grower & Pre-Emergent. 8# Bag.
Vegetable Gardens - At first emergence, broadcast on soil or mulch. 1lb/100 sq. ft. During growing season, side dress plants. 1/2 ounce/ft. height of plant

Around Fruit & Berry Plants - Broadcast at drip line of plants at flowering and at first coloration of fruit. 1 ounce/per ft. height of plant

Flowering Gardens - Broadcast around your annual or perennial at time of planting, first bud, and flowering. 1lb./100 sq. ft. of bedding area

Container Gardens - Monthly during growing season: 1 Tbsp - 6" Pot; 2 Tbsp -12" Pot; 3Tbsp - 18" Pot

Trees & Shrubs - Broadcast at drip line - 1lb/100 sq. ft.

Pre-Emergent Weed Control - Natural Peptides - No Animal Waste- Biological Soil Amendments

For Best Results Always Use A Nu-Force Water Revitalizer found in this site.