Eco Elements Liquid Excel - 16 OZ - Foliar Plant Nutrition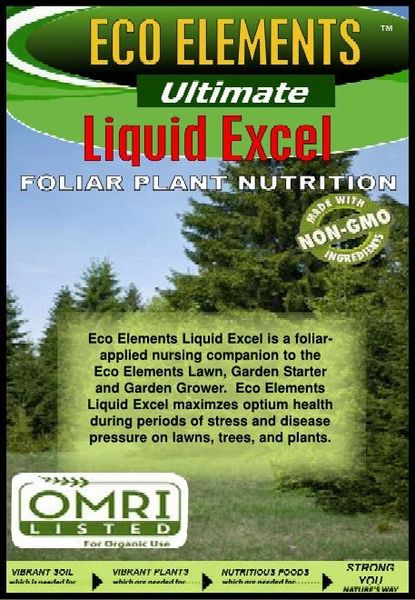 Eco Elements Liquid Excel - 16 OZ - Foliar Plant Nutrition
Eco Elements Liquid Excel - 1 Gallon: Liquid Excel is a foliar applied nursing companion product to Eco Elements Lawn, Garden Starter, and Garden Grower. Liquid Excel maximizes optimum health during periods of stress and disease pressure on lawns, trees, and plants.
Liquid Excel is a proprietary formulation of chelated trace minerals and organic sugar. When used in combination with a Nu-Force water revitalizer, invigorates water which will help break the gridlocked nutrient environment within field crops, plants, trees, and grasses. Also, aids in the process of recovery time from stress or diseased tissue to maintain health and vitality.
Directions for use and coverage are listed on back label.
Works even better and produces best results when used with a Nu-Force water unit.
Speak with your dealer or call Organic Earth Systems for more information on the Nu-Force Water Unit.